Buy Fixu Drink from Indiegogo campaign
Join our mission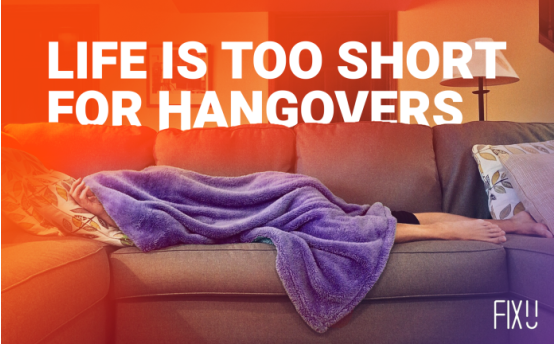 FixU Drink goes for sale on the Indiegogo crowdfunding platform
INDIEGOGO SALES OPENED ON 12.6.2020!
Get your own FixU Drink now from Indiegogo:
https://www.indiegogo.com/projects/drink-fixu-to-feel-great#

Ever regretted the fun night out? Not anymore! FixU Hangover Recovery Drink is made from natural ingredients to cure the symptoms of a hangover. Join our campaign and let's make the morning afters better than ever!
FixU Drink is a pinnacle of over 20 months of research and development. We have formulated the world's most effective hangover recovery drink and are ready to start global production. We have already produced FixU for our local market in the Nordic countries but in order to take on the global market, we need your help. This is another revolutionary superfood from the Nordics.
How does Indiegogo work?
Indiegogo is based on the idea of communities that support the products or projects they like by making reservations for them in advance. The project creator can set a reservation/funding goal and a deadline for the goal before starting the project.
If you want to get FixU, sign in to the service and reserve your desired quantity of the product. There is no risk involved in making advance reservations, because Indiegogo works according to the all or nothing principle, where the price of the product is only charged when the project reaches its specified goals and secures enough advance reservations. If the project does not meet its goals for whatever reason, no money will be charged for the reservations.
If you have second thoughts and decide that you can handle your mornings after without FixU, but you have made an advance reservation, you can cancel your order at any time before the campaign concludes.
The FixU community on Indiegogo
Buy FixU directly at Indiegogo and join our merry and healthy community, where we like to have fun and wake up fresh the next day!
FixU Drink has shown its effectiveness in the Nordics. We have gotten tremendous positive feedback from our customers of all ages. Our bottleneck (pun intended) at this moment is our capacity to produce sizable quantities of FixU for global sales and this campaign will Fix (pun intended) this problem for FixU. We have a ready product, we have our global logistic channels already set up, all we need is funding to start mass-scale production in a pharmaceutical factory in Austria. Our goal is 10.000 US$ to start mass-scale production of FixU!
Buy now
Do you want to be the first among your friends to wake up feeling fresh the morning after?