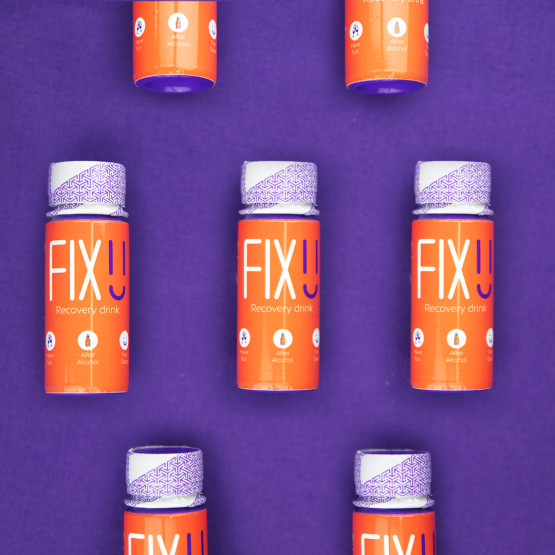 More joy into your life
A pounding headache and feeling tired? Aching muscles that are drained of all strength? An unpleasant feeling that you know is only the beginning? Sounds familiar?
FixU is a functional drink that comes as a shot (60 ml) to help you feel better.
Whom is FixU for?
FixU has been designed to improve the morning after of anyone who drinks alcohol. The most important thing for us is the same as for you: to have fun tomorrow as well. If you:
like to relax sometimes and break away from everyday worries
are active and want to look after your health
need a little encouragement when spending an evening with your organisation, workplace, or group of friends
then FixU might be just the thing you have been looking for.
FixU is a dietary supplement that seeks to speed up the body's recovery and thereby improve overall well-being. The various ingredients in the supplement are said to cure liver diseases, and it contains vitamins B and C that are good for the nervous system, blood circulation, the cells, bones, and the maintenance of overall health.
Our customer pledge
We promise to help our customers have a fresh, comfortable, and happy morning after, when you can enjoy the good memories of the previous night in high spirits. This means that it has really sparked joy! FixU is a widely studied, high-quality functional drink with a nice taste.
Buy FixU
If you want to know when FixU is available, please leave us your contact information.