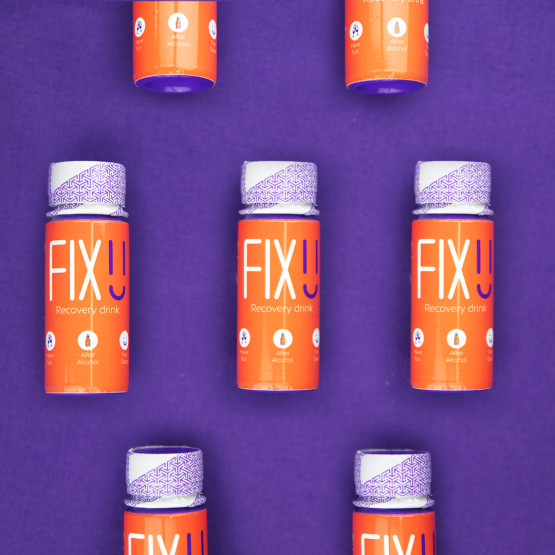 More joy into your life
A pounding headache and feeling tired? Aching muscles that are drained of all strength? An unpleasant feeling that you know is only the beginning? Sounds familiar?
We want to help you to effectively alleviate the bad feeling that usually comes after a fun night so that you do not have to suffer a hangover or cancel your plans. FixU is a functional drink that comes as a shot (60 ml) and is taken together with alcohol or immediately after drinking. FixU is not based on the alleviation of the acute symptoms of a hangover, but on a comprehensive understanding of the mechanisms underlying hangovers, which allows it to affect the causes of a hangover before the body enters the critical state that we call hangover. If the symptoms mentioned earlier are familiar to you following the ingestion of alcohol, you may have wondered why no one has come up with a product like this before.
Whom is FixU for?
FixU has been designed to improve the morning after of anyone who drinks alcohol. The most important thing for us is the same as for you: to have fun tomorrow as well. If you:
like to relax sometimes and break away from everyday worries, say by having a beer (or two) on the weekend
are active and want to look after your health
enjoy wine tasting, special beer brews, and rare whiskey brands
need a little encouragement when spending an evening with your organisation, workplace, or group of friends
then FixU might be just the thing you have been looking for.
FixU is a dietary supplement that seeks to speed up the body's recovery and thereby improve overall well-being. The various ingredients in the supplement are said to cure liver diseases, and it contains vitamins B and C that are good for the nervous system, blood circulation, the cells, bones, and the maintenance of overall health.
Our customer pledge
We promise to help our customers have a fresh, comfortable, and happy morning after, when you can enjoy the good memories of the previous night in high spirits. This means that it has really sparked joy! FixU is a widely studied, high-quality functional drink with a nice taste that fixes the harmful effects of alcohol in the body and helps keep hangover at bay. This is good for your loved ones too, as you won't have to cancel any plans because you are not feeling well.
The efficacy of the product is affected by various factors, and we would like to remind you of these to ensure the best possible user experience.
FixU Drink is not a hydrating drink, so you must ensure that you drink enough liquids. Although FixU can alleviate the symptoms of hangover, it cannot fix your fluid balance. A body dried up by alcohol is tired and suffers from headaches.
FixU can fight a hangover intensified by smoking only up until a certain point. If you are a smoker, please note that the effects of the supplement may be reduced due to the toxins in cigarette smoke.
Alcohol should always be consumed in moderation and wisely. Some amounts of ingested alcohol are beyond the capabilities of any dietary supplement.
Remember to drink FixU during the night, or no later than before going to bed. FixU cannot catch a hangover that is well under way in the morning.
Buy FixU
If you want to know when FixU is available, please leave us your contact information.